A Call to Action Issued by the 2015 Cohort of 3M National Teaching Fellows
We are convinced that public education, in its many forms, is society's best avenue to strengthen, uplift, enlighten, and secure the individual citizen and the community of which they are a part. Education empowers individuals to meet their intellectual, emotional, physical, social, economic, and spiritual needs. It prepares them to engage with the challenges and opportunities they find in Canadian society. Guided by these convictions, we call upon the new Federal government to do all it can to redress the serious problems that have kept the power of public education from realizing its full potential. We think particularly of the ways an effective education has not been available to Canada's Indigenous, regionally marginalized, and impoverished peoples.
We call upon the Federal Government to appropriately resource public education for Indigenous peoples, allowing them to fully determine their own educational goals while supporting them as they pursue those visions. We encourage the Federal government to fulfill its campaign promise to "enact the recommendations of the Truth and Reconciliation Commission," especially the seven recommendations related to education as outlined in the 2015 Truth and Reconciliation Commission of Canada: Calls to Action.
We call upon the Federal Government to partner actively with provincial governments to ensure that educational resources are managed with accountability and transparency. The wide variety of research-oriented, comprehensive, small undergraduate universities, colleges, and institutes must be equitably funded and accessible to all. The severe inequities within provinces, between provinces, and between regions must be redressed.
We call upon the Federal Government to increase the availability of resources, including student loans, grants, scholarships, and research funding. People from lower income families rely on these resources to attend post-secondary institutions, and Federal support for these students is essential. Public education enables Canadians to develop their abilities and secure a better future for themselves, their communities, and Canada.
Ann Bigelow, Department of Psychology, St. Francis Xavier University, Nova Scotia.
Etienne Côté, Atlantic Veterinary College, University of Prince Edward Island, Prince Edward Island.
David Creelman, Department of Humanities and Languages, University of New Brunswick, Saint John, New Brunswick.
Sara Harris, Earth, Ocean, and Atmospheric Sciences, University of British Columbia, British Columbia.
Steve Joordens, Department of Psychology, University of Toronto Scarborough, Ontario.
Veselin Jungic, Department of Mathematics, Simon Fraser University, British Columbia.
Peter Ostafichuk, Department of Mechanical Engineering, University of British Columbia, British Columbia.
Jessica Riddell, Department of English, Bishop's University, Quebec.
Pamela Toulouse, Faculty of Education, Laurentian University, Ontario.
Jin-Sun Yoon, School of Child and Youth Care. University of Victoria, British Columbia
---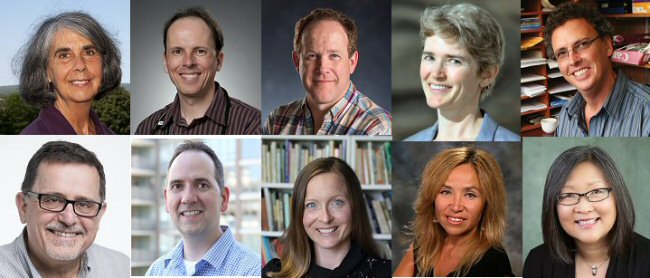 Top: Anne Bigelow, Etienne Coté, David Creelman, Sara Harris, Steve Joordens.
Lower: Veselin Jungic, Peter Ostafichuk, Jessica Riddell, Pamela Toulouse, Jin-Sun Yoon